FT Custom Suite
Full suite of products to power your logistics operations
Create your own FT experience by combining any of our logistics products to enhance your business.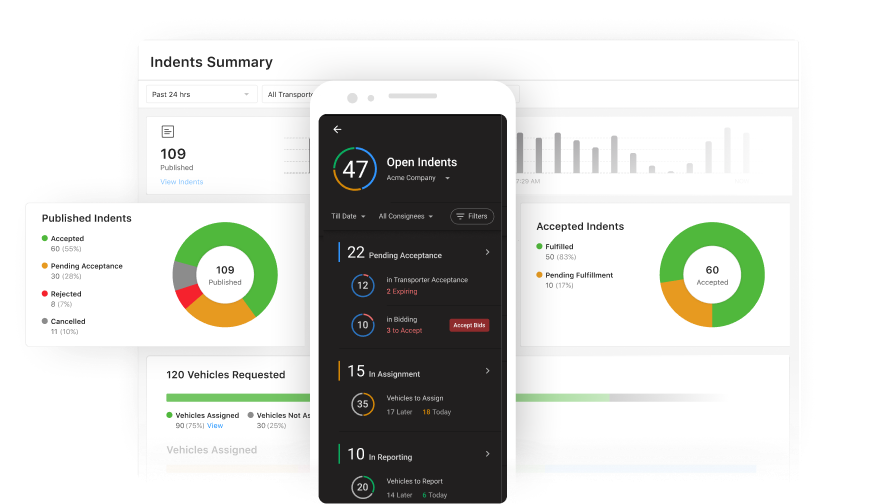 FT Fulfil
Vehicle placement simplified
Indent coupled with spot/real time bidding.
OTIF at transparent and competitive cost.
Faster indent to vehicle placement.
Order clubbing and auto-allocation business rules you can customise.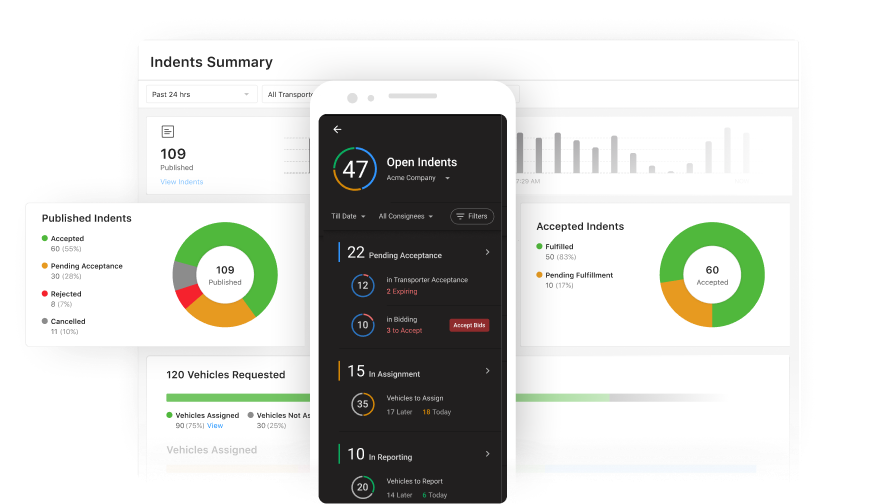 FT Trace
Your freight at your fingertips
Complete trip visibility without additional infrastructure. Track all market trucks without GPS.
Inbound and outbound trips.
50+ interactions with ERPs, telecom service providers, telematics services, CRM as well as GPS providers. 80+% share of device based tracking market.
Most accurate ETA engine.
Improve your TAT in transit and at loading/unloading point.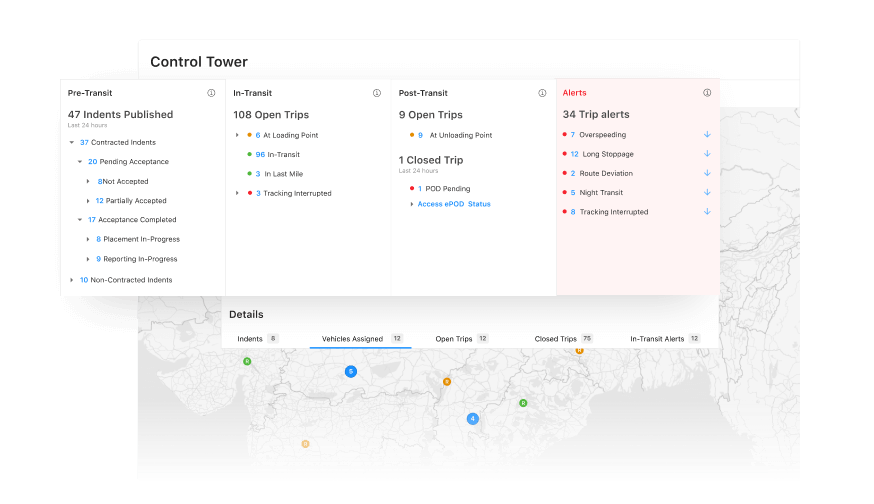 FT Control
Exceptions management made easy
A cockpit view of your entire journey management events- pre, during and post transit.
Configured alerts and notifications- long stoppage, detention, route deviation and more. Manage your exceptions and escalations with managed services.
Initiate, record, track and get real time visibility on time bound actions taken on exception alerts through ticketing.
Faster distribution by reducing idle time of trucks and idle time of inventory at warehouses.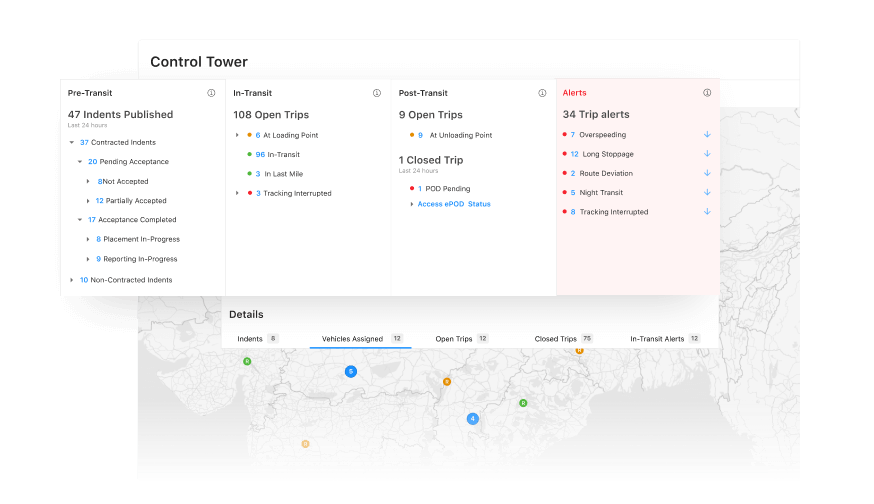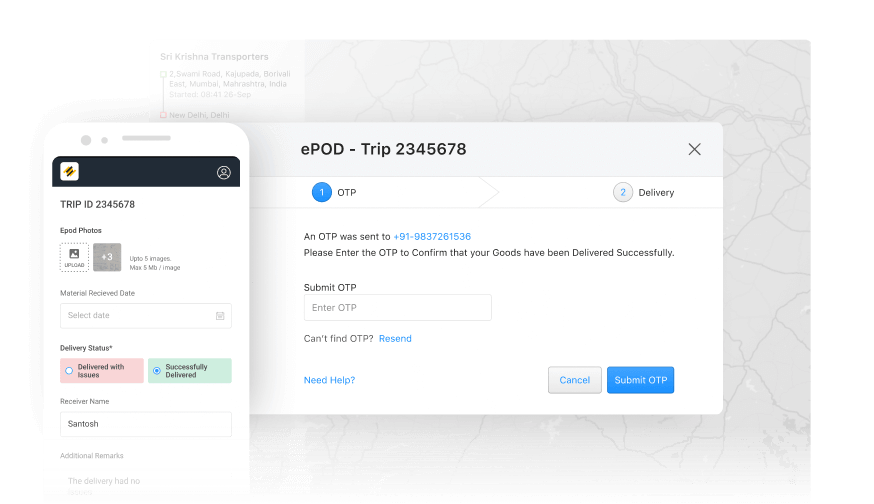 ePOD
Instant verification. Faster payments
100% trip coverage through multi-modal authentication-mail, IVR, OTP and app based ePOD. Easy submissions even without a smartphone.
ePOD enabled with FT Boost can help transport companies receive payments faster without impacting shipper's payment terms.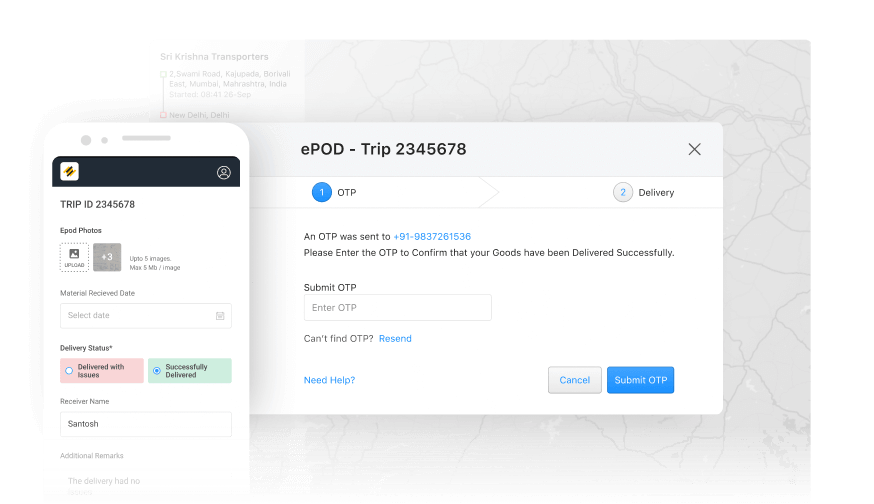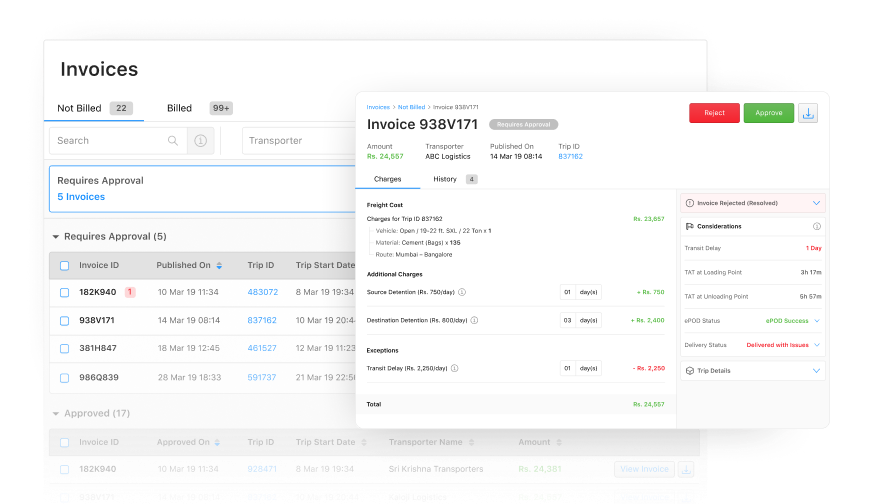 eFreight Bills
Transparent payments reconciliation
Hassle free freight payment reconciliation and automated invoice generation.
24/7 visibility on bills and payment status along with audit trails.
Approval of invoices from multiple levels and departments on a single platform.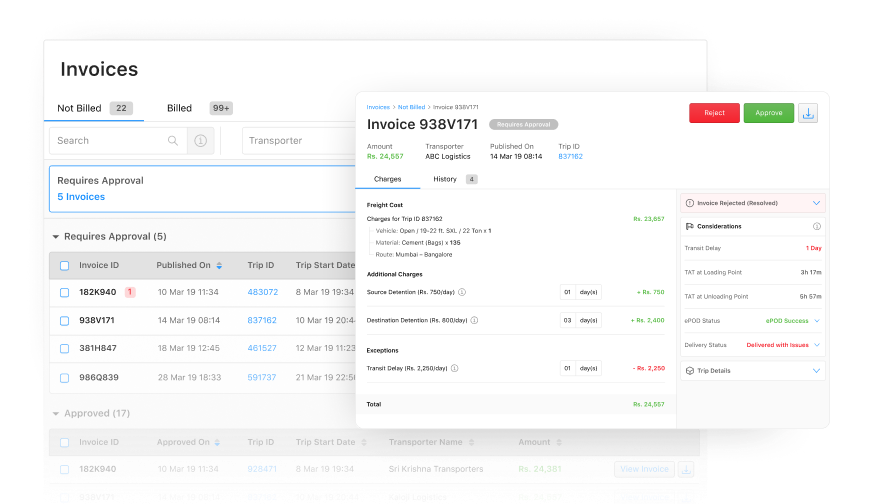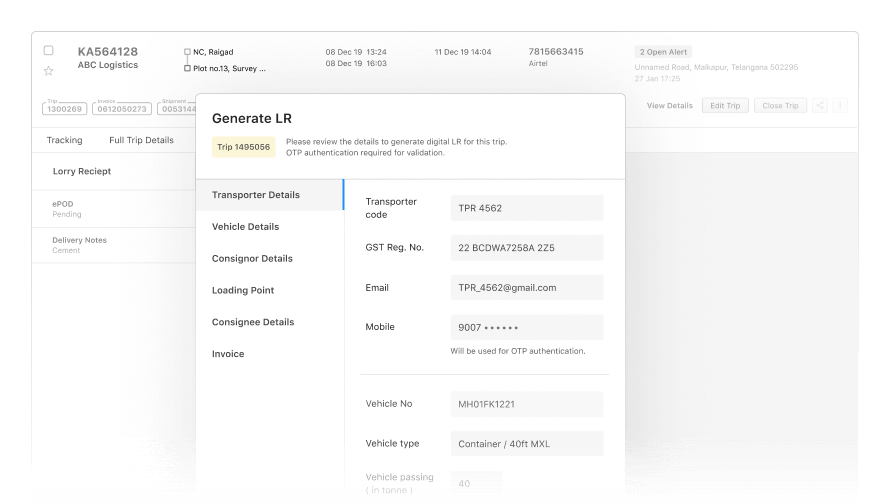 Digital LR
The "Bilty" digitized
Reduce dependency on physical documents and reduce the possibility of errors.
Contactless LR generation.
Easy integration with ERP to generate digital LR.
Digital LR Confirmation flow by transport company representative.
Digital LR enabled ePOD.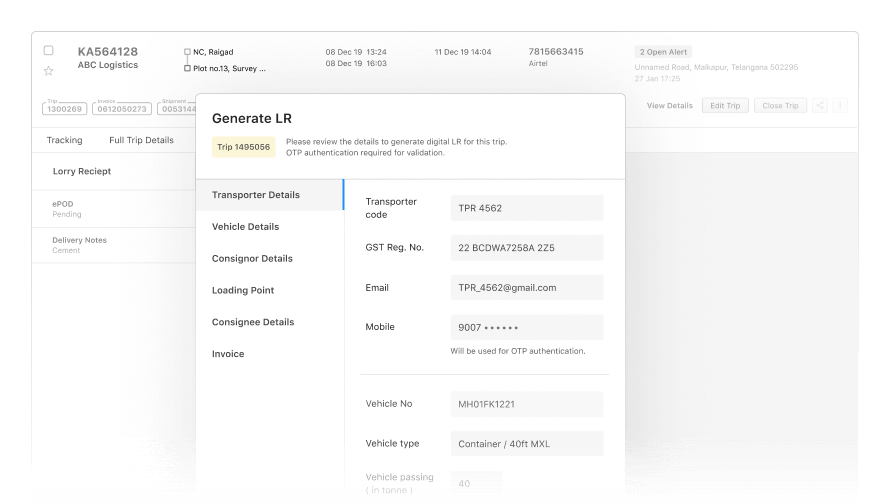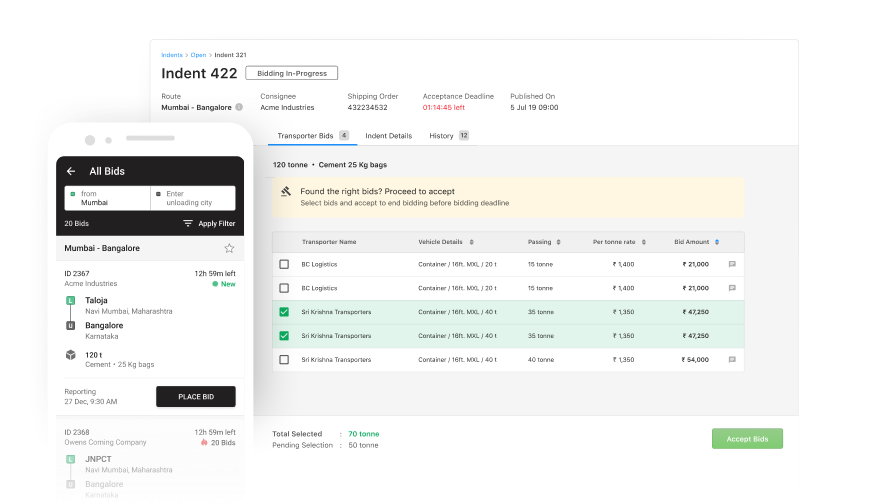 FT Networked
A logistics network driving growth for all
A neutral freight platform giving you instant access to a trusted network of shippers and logistics service providers across India.
For consignors: Don't miss out on a single delivery. View all incoming bids and choose the one to award.
For transporters and logistics service providers: Grow your business through 24*7 access to spot loads near you.
Supported by other FT products including FT Boost.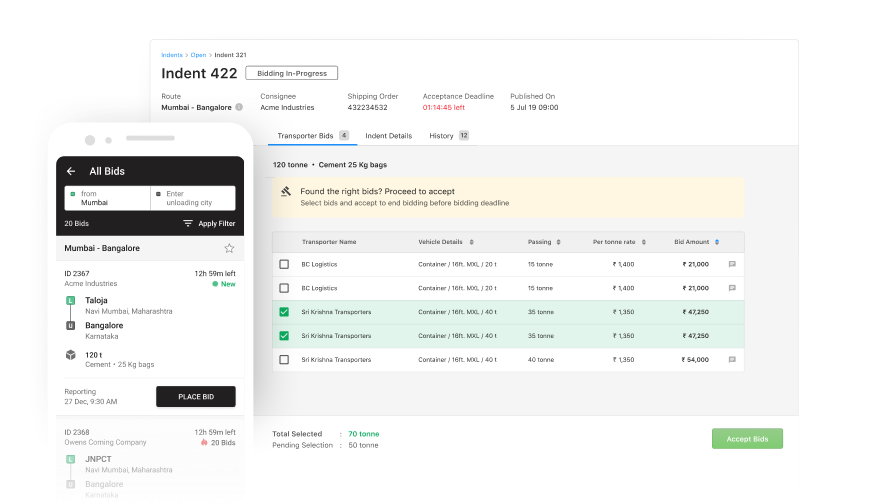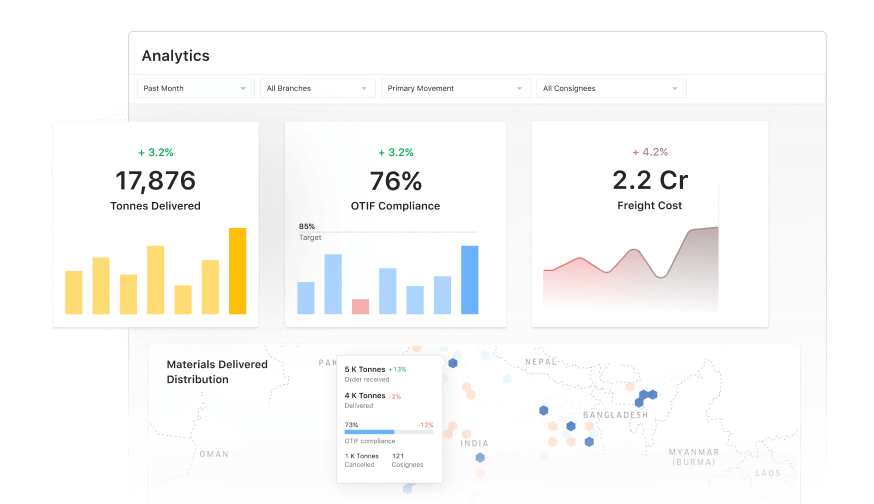 FT Insights
Analytics that helps you make smarter decisions
Actionable dashboards across all operations to help reduce costs and improve OTIF.
Grow your and your customer's business with actionable insights.
Ability to slice and dice data by plant, customer, transport companies, route etc.
Compare and assess branch level performance using historical data.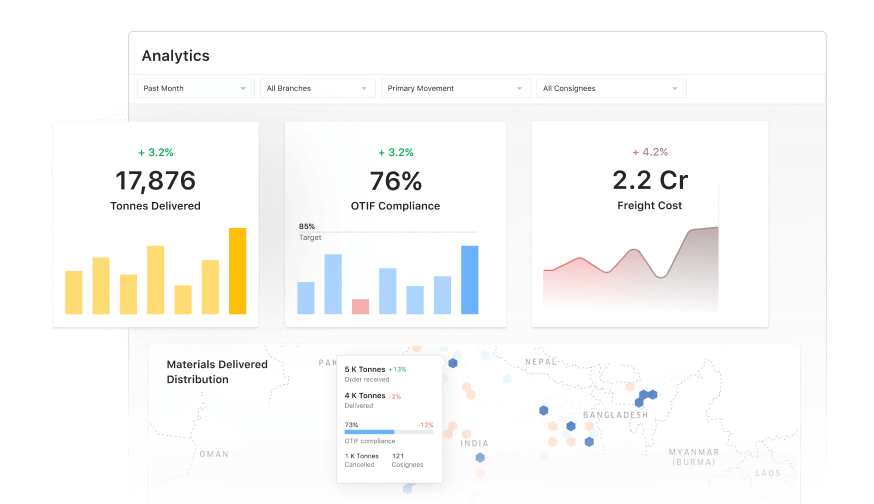 FT Boost
Fuel your freight finances
We have partnered with reputed banks to provide secure & cheaper financing for customers.
Transport companies can get credit at trip creation or at ePOD or invoice generation.
Shippers can avail financing to pay their transport companies.
Reduce your freight costs by upto 1.5% without changing your payment terms. Our add-ons
Try any of these powerful add-ons to get the most out of your FT products.

FT Managed
Combining the offline with the digital. End to end frontline support for your logistics journey.

WhatsApp Chatbot
Communicate instantly with your customers and partners through our 24/7 WhatsApp chatbot.
Solutions available for both transport companies & consignors
Request a demo to see the full platform in use.
Thank you,
We'll get back to you in 2-3 days.
Contact Us
Interested in what we have to offer? Have questions?
We would love to hear from you.
Sales
Queries
Freight Tiger is committed to providing a high standard of service. Your concerns are our priority. If you have an unresolved problem that needs special attention, please write to us at grievances@freighttiger.com and we will be glad to help you at the earliest.